El otro dia, mientras programa en NetBeans, me encontre con el siguiente problema:
Javadoc not found. Either Javadoc documentation for this item does not exist or you have not added specified Javadoc in the Java Platform Manager or the Library Manager.
Esto es en si, que la documentación no se encuentra, o no existe. Lo que se, es que si existe porque son las librerias oficiales de Java.
Descargando el Javadoc de Java SE 6:
El SDK no trae sus respectivos Javadoc, hay que descargarlos de la web de Sun. Donde dice Java SE 6 Documentation, a dia de hoy.
El archivo descargado, es un .zip. Realmente no hace diferencia donde se guarde, en mi caso lo pongo en la carpeta donde tengo el SDK en la carpeta docs, únicamente para que sea facil de encontrar.
Agregando el Javadoc al NetBeans:
En el NetBeans, vamos al menú:
Tools (Herramientas) ->Java Platform
Luego, en la versión del JDK correspondiente (en mi caso, JDK 1.6), solapa Javadoc, "Add ZIP/Folder..." y navegamos hacia el archivo .zip que descargamos (jdk-6u18-docs.zip, en mi caso) y lo agregamos.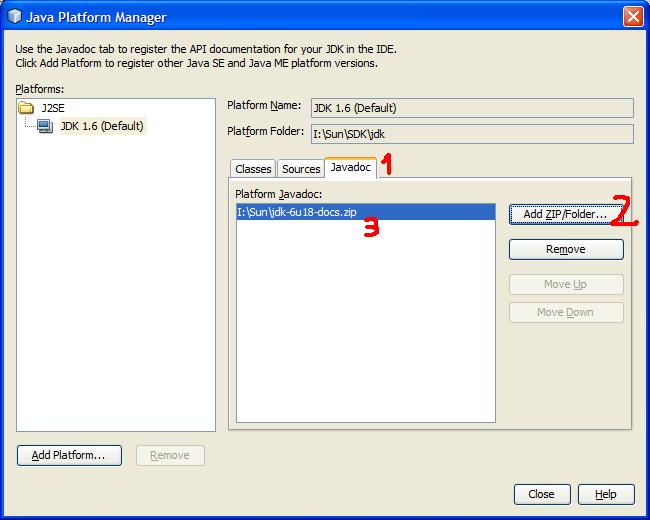 Luego cerramos, y ya debería estar funcionando.
Nota: Esto funciona para cualquier Javadoc que se quiera agregar, no únicamente el del SDK.