Voy a estar mostrando como instalar uTorrent y habilitar su Web UI en Linux, con wine (para correr aplicaciones de Windows en Linux). La razón de que utilizo wine y uTorrent, es porque este ya trae una Web UI (User Interface, intefaz de usuario), y es ideal para administrar de forma remota desde un navegador web. Aunque la aplicación no sea nativa, con wine corre bien. Voy a mostrar el proceso para Debian y ArchLinux, ambos sistemas con sudo configurado.
Descargando lo necesario:
En Debian, sudo apt-get install wine.
En Arch, sudo pacman -S wine.
Para descargar el uTorrent, voy a utilizar wget ya que la url de descarga es facíl de recordar:
wget http://download.utorrent.com/1.8.5/utorrent.exe
Iniciando uTorrent:
Para iniciar, utilizamos wine utorrent.exe /NOINSTALL.
Estamos iniciando wine y le pasamos de argumento la ubicación del ejecutable, en este caso utorrent.exe. Asimismo, del utorrent le estamos pasando el argumento /NOINSTALL, lo que hace es que en vez de que se abra el instalador, inicia directamente el programa, ya que no es necesario instalarlo (y a mi en lo personal se me traba).
Configurando el Web UI:
Options -> Preferences (Ctrl+P)
Sección Web UI.
Tildamos Enable Web UI.
Elegimos un usuario y contraseña a gusto. Si queremos, podemos poner enable guest account, una cuenta de invitado.
En Alternate Listening Port, podemos configurar un puerto manualmente para que se entre por ese. En mi caso, voy a utilizar 8080, pero no debería haber problema con ningun otro. (De no activar esta opción, por defecto es el puerto del uTorrent)
Finalmente, podemos limitar el panel a ciertas IP's. En el casillero Restrict access to the following IP's, enumerar con , las IP's a las cuales se les quiere permitir el acceso.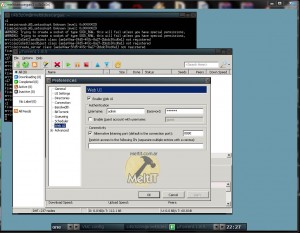 Para acceder al servidor, utilizamos en un navegador, por ej,
http://10.0.0.201:8080/gui/
, en el caso mio, que la IP es 10.0.0.201 y el puerto 8080.